Sophia Marinkovich
Artist. Activist. Commercial Fisherwomxn.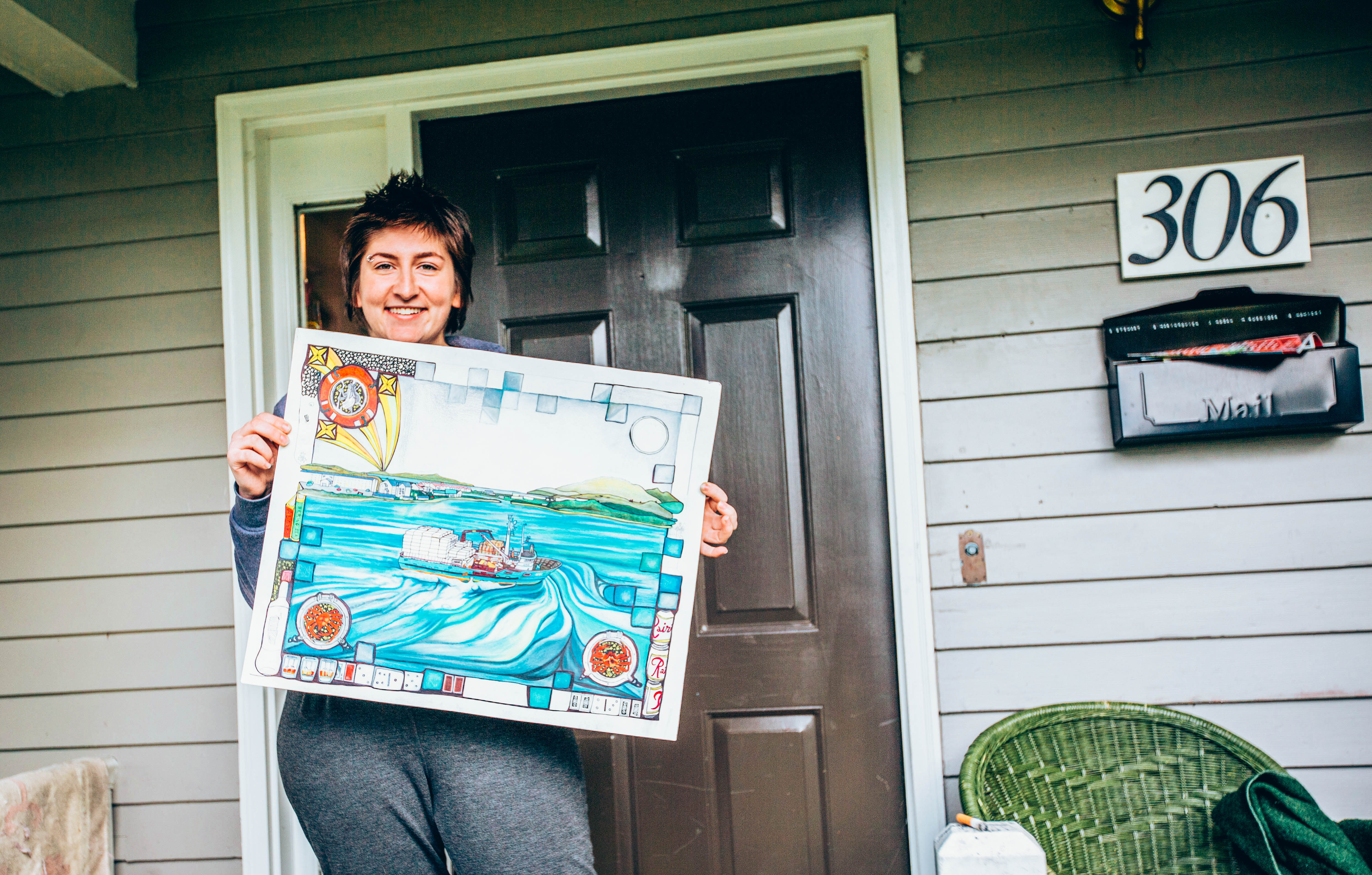 By Regan Bervar, Alissa Vanlandingham and Alaena Fletcher
Sophia, 22, was born in Tacoma, Washington, but moved to San Juan Island when she was 6 years old. Since before she could remember, fishing had always been a part of her life and has been in her family for generations.
Growing up on the island, Sophie says she feels most at home when she is around boats and near the ocean.
Sophie's dad introduced her into commercial fishing when she was 17 years old and her sister when she was 12.
Her first summer in Alaska she didn't expect to be working on a boat, but spontaneously ended up as a crew member on the oldest boat in Bristol Bay.
She has gone up almost every summer since and for the last three years has worked on her dad's boat.
"Fishing is one of those rare things where if you work hard you can see a direct benefit. The harder you work the more money you make. You get to see the results of your effort."
In 2017, a week before the end of the season, Sophie said that she had one of her most memorable experiences from fishing, but it wasn't one that she wished would happen.
"There was an incident two years ago in Alaska with people that we are acquainted with where someone was raped," she said. "[The girl] was announcing to the world that she was raped and the majority of the people were saying it didn't happen."
A week later when the season was over, Sophie said she was at the airport waiting for her flight to go home. In the small town of Bristol Bay, almost all the people flying in and out are fishermen or captains.
"I was listening to the different captains talking in the airport and all of them were speaking the information about this story as if this girl had made it up," she said. "Within a week it was like it didn't even happen."
Connections are strong in Alaska, especially the tiny town of Bristol Bay with a population of around 100.
Sophie said that because of how other crew members and captains were responding to the incident, as though it hadn't happened, her father left his radio group that he had been a part of for 20 years.
Sophie remembered her sister saying that when she started going up to fish in Alaska 11 years ago, there were very few girls.
Although fishing can be dangerous, for Sophie, because of this past incident she says her concern doesn't lie in the boat, but in the bars.
"I think what Elma's doing with Strength of the Tides is so cool and it's really exciting seeing other young fisherwomen want to continue fishing and want to make it a safer space," Sophie said. "All I want to do is get all my girlfriends up there, but I want to make sure they're safe."  
Sophie said that her first few seasons, she felt as though she had to prove herself to the other male crew mates and she has had friends up there that were treated with different work ethics because they were women. Attitude is everything, she said and being a fisherman- or fisherwoman- doesn't have anything to do with how strong and big you are.
"Now this past season you look out on the water and see a boat with three girls on the back deck and that's really new and exciting."
"My favorite memories are my worst moments. They're not necessarily when we caught a lot [of fish] but like when we didn't sleep for three days."
"This year when I go up there I'm going to order a bunch of tampons and give it to the silver bay office and say put these on our tenders because that stuff isn't happening."
After the incident in 2017, Sophie says that things are getting better up in Bristol Bay when it comes to handling and addressing issues of sexual assault, but they're still not quite there yet.
She said that it doesn't have to be unsafe up in Alaska and it feels really good to see women succeed up there, but simple things like sexual harassment procedures or support networks for women aren't addressed on boats.
But for now, Sophie says the is focusing on the small things that make a difference, in hopes that it brings more awareness and overall inclusiveness to the sport of fishing.