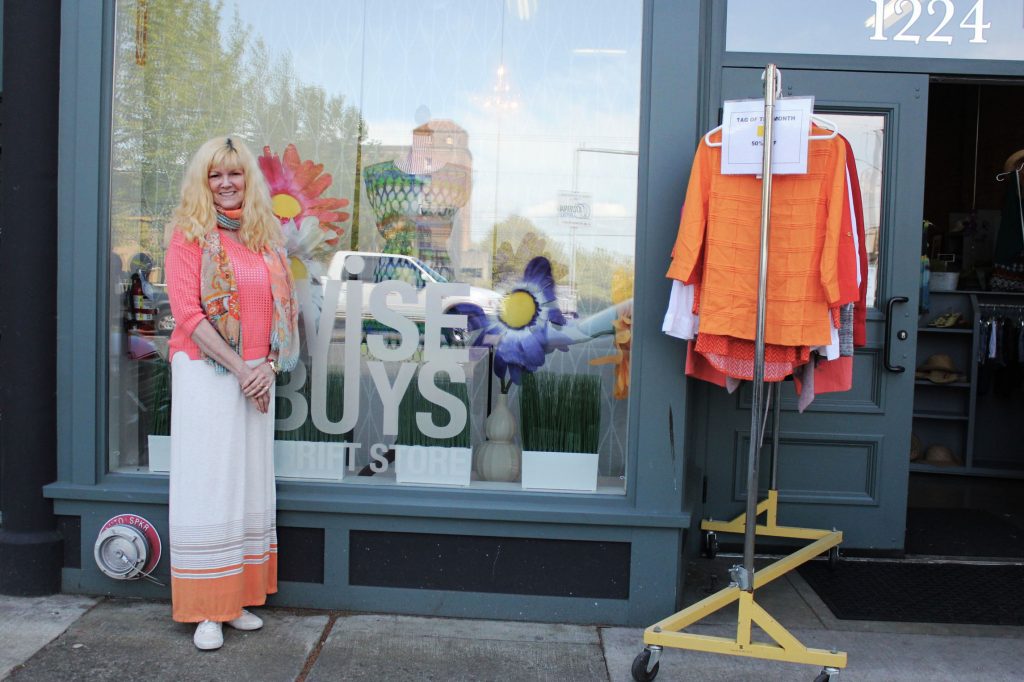 Photos, Graphics, and Story by Shannon Finn
Store Manager: Nancy Long
What's the best part of your job?: "The best part of my job I think is that I always worked in corporate retail. I worked long, hard hours. I gave it my all, but I knew deep down that it was all just going to some rich guy. It was all going to shareholders. Now, I can put in the same kind of work, but I know it's going to a really good cause and that it's really helping people get off the streets, instead of helping somebody buy a yacht. So, it really makes a difference."
What do you think makes this store unique to Bellingham?: "One of my missions is to make it different than the other thrift stores. I want it to feel more like a real store. I don't want it to be a junk store. I also don't want to go too far into the girly boutique-y look either, because it's easy to fall into. I wanted to be able to make it feel more Bellingham, make it feel more fresh, but also welcoming to men."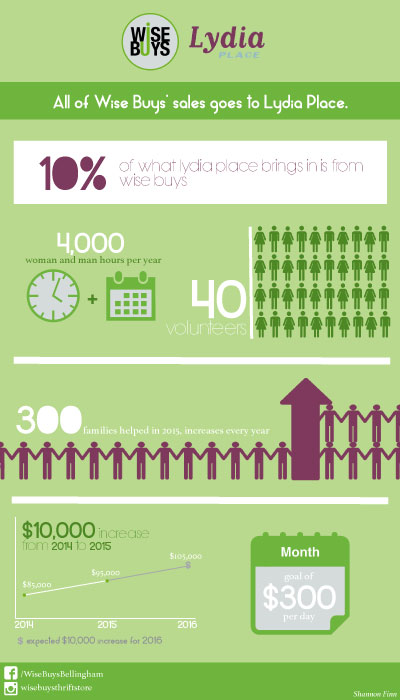 Lydia Place, a nonprofit organization that helps out homeless families and individuals, founded Wise Buys in 1989. Originally, Wise Buys was owned by the YMCA, and was called, "Y's Buys." However, when the YMCA was closing the business, Lydia Place took over. Today, all of Wise Buys' sales go to Lydia Place, making up 10 percent of Lydia Place's funds.
Wise Buys receives its donations from the community, with donations increasing when Lydia Place holds an event. Lydia Place holds two major events a year – Handbags for Housing in June and Hearts for Housing Gala and Auction in February.
With the help of the donations from the community and the forty volunteers at Wise Buys, the sales goals have been increasing each year, helping the Lydia Place homeless families in the long run.
On April 22, 2016, Wise Buys held a reopening event for the store. The event was held to let the community know of the big change the store underwent. Many items the store used to sell were eliminated, leaving room for more clothing, which is what is most sold by the store and most desired by the customer.
1224 N State St, Bellingham, WA 98225
To find Wise Buys, drive down State St. and it's in the block past E. Holly St. next to Old World Deli, on the left. It's the store with a rack outside its door.
Price: $
(360) 734-0202