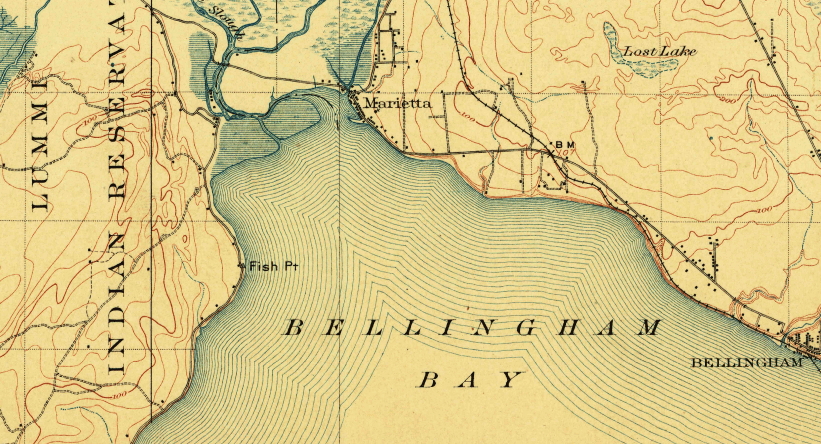 Bellingham Bay is slowly filling with sediment as a result of the diversion of the Nooksack River. Compare the map from 1910 on the left, to modern day on the right. Notice how "Fish Pt." is significantly inland one century later.
Bellingham Bay: An Environmental History
Story and video by Matthew Tangeman
During the past century and a half, settlers have brought a dramatic and unprecedented ecological shift to the formerly thriving Bellingham Bay environment. It began in the 1880s, when colonial logging companies diverted the entire Nooksack River from it's natural delta in Lummi Bay to Bellingham Bay, to more easily float logs to the mills at Squalicum Harbor.
The delta now faces south – an unnatural arrangement straight into the prevailing wind. Sediment and outflow from the river are pushed back from waves, forming an increasingly muddy buildup from the Lummi Peninsula to Squalicum Harbor. Bellingham Bay is rapidly filling with sediment as a result of this. Sprawling eelgrass beds and lush old habitats for a variety of wildlife, particularly salmon, are long choked out and buried.
The plunder continues with another half century of dredging and filling in of tidelands along Whatcom Creek. Much of the industrial waterfront of Bellingham is built upon wood waste, overturned estuaries, and at times literal landfills – trash – from the mid 20th century.
Today, there is a constant battle to clean up old pollutants seeping from the landfills, and pin down non-point-source pollution from stormwater runoff throughout the city. It takes a team – in fact, it takes everyone – and a variety of individuals and organizations are working to make Bellingham Bay a cleaner place.